Shows That Were Shot at St. John's Prep (AKA Mater Christi)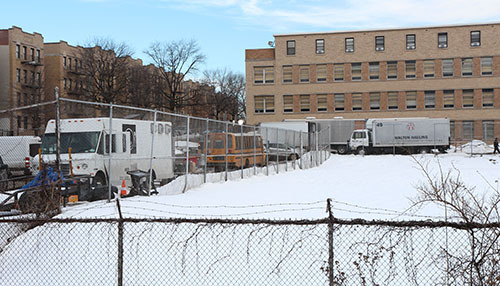 Since 2011, according to the mayor's office, it has starred in 48 TV and film productions, most if not all of them involving St. John's.
And these are only the shoots that applied for the use of public streets. The prep school is private and free to rent its property without permits.
A shoot at St. John's Prep.
Its fame built gradually. There are no remaining records for 2008, Pelham's year, through 2010. But there was one shoot each in 2011 and 2012 and seven in 2013. In 2014, scenes from 17 productions were filmed there.
And in 2015, the number grew to an astounding 22, or almost one every other week.
I've seen it, uncredited, on Alpha House, Girl Code, Person of Interest, The Blacklist, Unforgettable, Orange Is the New Black, The Networker, SVU, St. James Place, Unbreakable Kimmy Schmidt, The Slap, Saturday Night Live, Shades of Blue, How To Be Single, Youth in Oregon, Going in Style, The Path, Blue Bloods and even The Good Wife.
This year, according to my eyeball tally, it has been on set seven times: The Blacklist, The Good Wife and the new TV crime drama Feed the Beast (five times!).
Photo by Nancy A. Ruhling
Evil, Season 1, Episode 10
The Marvelous Mrs. Maisel
Manifest Season 3 Episode 8